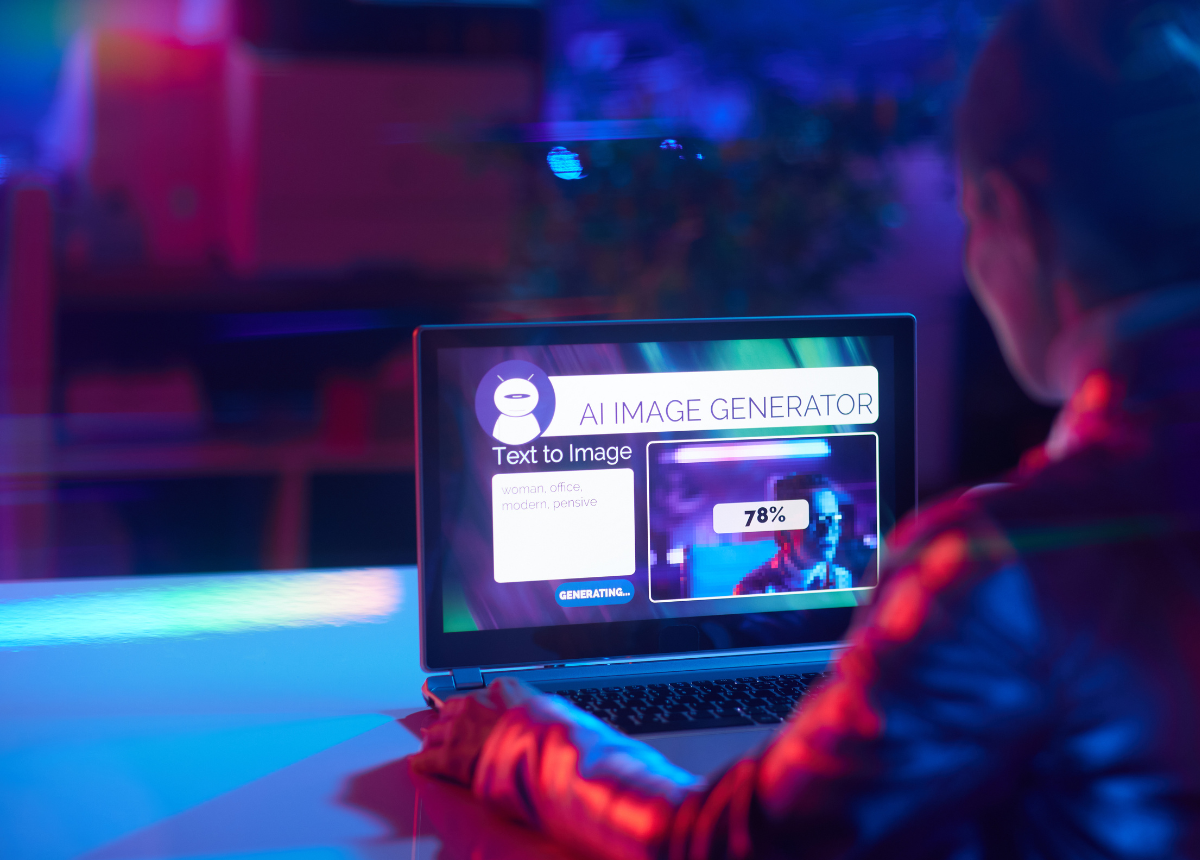 Generative AI promises to revolutionize almost every business function, and many in PR are wondering if (or how) they should adopt it. But turning promise into practice is easier said than done. At Highwire, we've picked up the gauntlet thrown down by Generative AI, creating an agency-wide framework, policy and training to help our teams begin tapping this incredible potential for communications and marketing work, while retaining a pragmatic and risk-sensitive approach.
Far from being a mere set of guidelines, Highwire's framework combines skills-development for our teams, internal tools and templates to build consistency, and client-facing best practices to ensure transparency and trust. All of which has been built on a foundation of ethical, legal and disciplinary best practice, grounded by industry trends and external counsel.
Here, we'll unpack Highwire's Generative AI framework and explain how it is shaping the future of our work, roles and responsibilities.
Transparency and trust
All Highwire employees receive training in our Generative AI policy. It stipulates that no Generative AI technologies may be used to produce client deliverables without explicit permission within our Master Service and/or Scope of Work agreements.
This protection safeguards Highwire clients from paying human rates for robotic work, and is the bedrock of a transparent and open discussion about the use of Generative AI.
Our teams are equipped to guide those conversations around using AI to produce written work, graphics, analysis and insight. Our intent is to make sure clients are informed of all risks before engaging a Generative AI solution, to understand the implications of copyright, ownership and transfer, and to feel confident in answering questions to their own leadership and stakeholders.
Shaping our Generative AI Framework
Built around four pillars of consideration, our Generative AI framework is a safety harness, ensuring that we, our employees, and our clients make all the key considerations in advance of any Generative AI use.
It provides a clear path to many tricky situations, helping Highwire teams traverse complex discussions about the integration of AI, while adhering to ethical, legal, and responsible use.
The Framework's pillars are: Legal & Contractual, Copyright & Ownership, Ethics and Quality. Within each pillar are 14 topics which must be addressed before any use of Generative AI. We will add more over time, within the four pillar structure.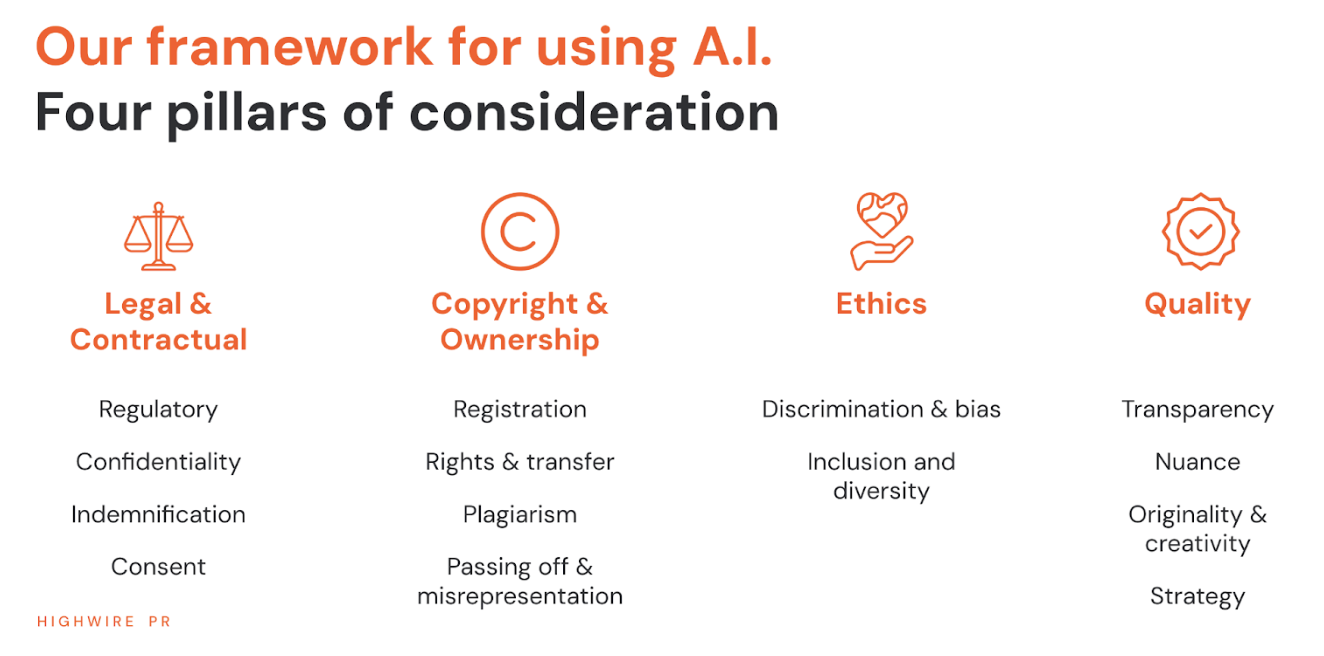 Legal topics include regulatory concerns, confidentiality and indemnity. Copyright & Ownership navigates the labyrinth of registration, rights & transfer, plagiarism, and passing off & misrepresentation, ensuring clarity on ownership of AI-generated content.
The Ethics pillar underscores our stance against discrimination & bias, promoting Highwire's unyielding commitment to inclusion and diversity. It is important to us that our AI usage not merely protect against bias, but actively advocate for diversity, eliminating harmful stereotypes or prejudice.
Lastly, the Quality pillar emphasizes the importance of being transparent about our use of AI with clients. It covers the intricacies of messaging, tone and style, places value on originality and creativity, and mandates that all AI usage must align with brand strategy. We're dedicated to ensuring our AI outputs reflect our human standards.
Consistency: Key to a successful framework
As well as shaping training and policy, Highwire's Generative AI Framework serves as a trust-building exercise with clients, cementing our commitment to quality and consistency while exploring new ways of working together. The principles contained within it are being actively being integrated into parts of Highwire: From discipline-specific training to new product and service development.
We have also committed to offering further training for our teams, building on the Framework with courses on prompt engineering, extensions and plugins. To plot a course forward, we also opened an all-access employee discussion group to foster debate and react to demand for new materials.
Highwire Toolkit: Navigating the AI Terrain
Lastly, to empower our teams in their day-to-day operations, we created a simple list of Dos and Don'ts and robust risk-assessment templates, covering a spectrum of common scenarios. These map back to our Framework and provide recommended steps for mitigation or avoidance of danger. We call them Risk Maps, because they do more than assess, they plot a course forward. And we've made them public, so others can benefit from the discussions they start.
These templates serve as a ready reckoner, enabling teams to adapt quickly, reducing potential dangers of Generative AI misuse. They assist in client conversations, offering a clear picture of potential impact. And they're flexible - making it easy to accommodate new scenarios or discussions.
As we step forward on our AI journey, Highwire's Generative AI Framework keeps us grounded by our values, while focusing on the next evolution of our role. At Highwire, we believe in not just adopting AI but molding it responsibly, setting a precedent for ethical, quality-driven communications and marketing. AI's promises of revolution are well-founded, but will only be meaningful if they are applied responsibly. We believe our approach does that.