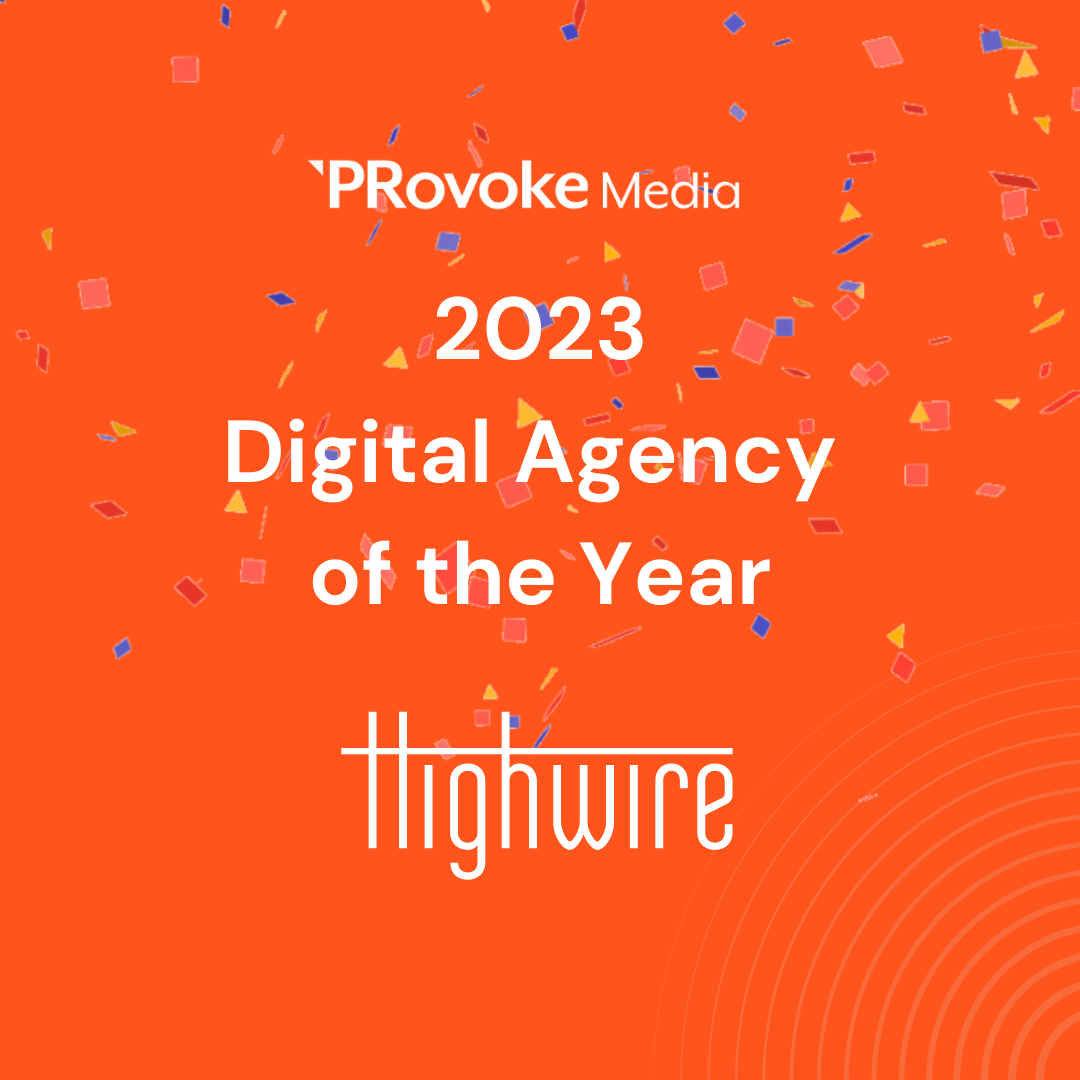 We are thrilled to announce that Highwire has been awarded the coveted title of Digital Agency of the Year in the 2023 SABRE Awards from PRovoke Media.
Thank you, Provoke Media, for the recognition. Thank you to our clients, who have entrusted us to lead critical components of their marketing and communications programs. And thank you to the team of Highwire Walkers, who bring all their talents and their whole selves to work every day, ready to deliver amazing results and have a great time doing it.
This is the point in the blog post where we are supposed to say we are humbled by the recognition. But you know what? You are humbled when something takes you down a peg, not when you've been recognized as a leader in the industry.
In fact, we are so proud of the incredible team of Highwire Walkers, whose work has been honored with this award. This team's talents and commitment to excellence in digital marketing and strategic communications impress us every day. We are proud to be working side by side with these amazing colleagues, and we are proud to say we're part of this incredible team. Y'all are amazing.
As the judges noted, Highwire has developed a reputation for "consistently good work and strong leadership," with a commitment to "constantly transforming [our] offerings around digital and content innovation."
We're also pleased as punch that the judges recognized that we're delivering on the promise of a truly integrated, independent agency. By the end of 2022, 71% of our enterprise clients were integrated across PR and digital services, up from 28% at the end of 2021. These clients see the value of integrating strategic communications and digital marketing. And we're delivering, with programs that drive not just coverage, not just content or pageviews, but high-impact, transformative business results.
Just look at our work for B2B loyalty marketing company Alliance Data, which reinvented itself as Bread Financial, a consumer-facing digital financial services company. Highwire played a key role in this rebranding effort, achieving Bread Financial's goal of reaching, engaging and educating Gen Z users through a social media and digital campaign that enlisted influencers such as financial activist Taylor Price.
What is humility-inducing is the awareness that we haven't got it all figured out yet. The Provoke Media awards committee noted our commitment to diversity, sharing that our agency-wide racial diversity is now 45%, exceeding the goal of 40% that we set ourselves in 2020. We're proud of that. But we still have room to grow, increasing diversity in our leadership — and ensuring that our culture remains inclusive and welcoming to all.
We also have no intention of resting on our laurels when it comes to the results we deliver for our clients. Look for more of the following in the coming months and years: Helping more major brands reinvent themselves, driving innovative influencer campaigns, elevating brands' profiles through killer social media campaigns, establishing true leadership and distinction for our clients through differentiated, top-quality content — and of course amplifying all that through effective media relations and strategic communications counsel.