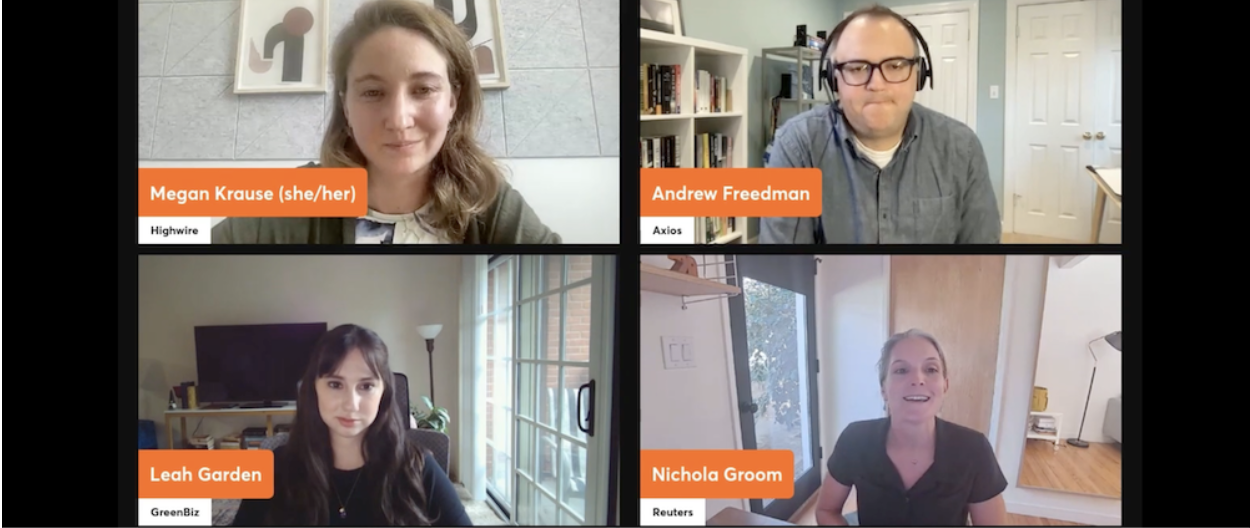 Unprecedented extreme weather, political pushback and the biggest funding bills in its history have pushed sustainability center stage for businesses. Highwire recently hosted a LinkedIn Live panel titled, "Sustainability Changes and Challenges During an Era of Extremes," to examine the current state and future impact of climate change, and announce the launch of its Energy & Sustainability practice, which includes clients Beewise, Hitachi Energy, PG&E, Schneider Electric's AutoGrid and others.
The media panel featured Andrew Freedman, senior climate reporter at Axios, Leah Garden, climate tech reporter at GreenBiz, and Nichola Groom, an energy and environmental policy reporter at Reuters. Highwire Senior Account Manager, Megan Krause, moderated the conversation.
The hour-long discussion — which you can watch here — covers topics such as Climate Week, the Inflation Reduction Act, environmental trends and the hurdles of dramatically reducing carbon emissions.

Heightened climate awareness
That more people, businesses and governments now pay attention to climate change than ever before underpinned the discussion.
"I think that the momentum is different," Groom said during the conversation. "I've been covering this space for about 15 years. And, when I first started, people were like, 'You're writing about solar? What's that?' It's really a different world now. Governments are talking about this — companies are talking about this. [...] As somebody who has followed this for a long time, I'm continually just kind of surprised by the momentum that has really picked up."
Groom also noted that it's a tougher reporting landscape than before, too. More publications than ever before are looking for scoops on the topic. However, she no longer has to explain her work and her beat. "The interest within my own news organization in climate stories is tenfold what it was a few years ago. We're all climate reporters now. Not just me and my small team."
This resonated with GreenBiz's Garden, whose parents were very concerned when she went for her undergraduate degree in sustainability management. During that era, she noted that, "there [were] no sustainability departments in these major corporations. Sustainability consulting [didn't] exist. And in 2012, it really wasn't a thing. And now it's 2023."
Policy, transportation top media conversations
Groom noted that transportation is a big hurdle in achieving decarbonization goals. There is a lot of media attention on the electrification of transportation for a good reason.
"Transportation is a huge contributor to greenhouse gas emissions," she pointed out. "That's a key pillar that we need to decarbonize, and it's certainly a big focus for the Biden Administration — trying to reduce the amount of oil we're using in transportation."
GreenBiz's Garden argued that the IRA passed by Congress in 2022 — which invests heavily in clean domestic energy — will require mass cooperation to be successful.
"The IRA, in and of itself, and I hate this phrase, but it's universally understood: It's not a silver bullet. It's not going to do anything on its own," she said. "It needs to be done in tandem with all of the industries working together. Which sounds a little hokey [...] but that's legitimately the whole point of it." As more parts of the law are defined, it'll continue to fuel conversations and analysis about its impact.
A fork in the road: The U.S. election
Freedman is most interested in seeing how the U.S. and China might work together to create clean energy. He also called the upcoming U.S. presidential election a "fork in the road" when it comes to environmental policy.
"[The election] comes as the United States and China are trying to find a path forward on climate and carve out some area that's safe to talk about," Freedman said. "So, I'm watching some of those international dynamics."
Freedman echoed Groom's early point about how climate change has crawled up priority lists. He's keeping an eye on how much the topic surfaces during election season since who wins could cause a large swing in the future of climate change.
"The extreme weather that you've seen over the past year, especially over the summer, has [. . .] elevated it in people's priority lists," Freedman said. "I still don't think there's that many climate change voters out there at the end of the day, though I might wish that there are. It's going to be interesting to see how this issue plays out in the election, given that Biden got [the IRA] passed with a lot of help. If it were to be repealed or chipped away at, it would significantly set the U.S. decarbonization effort back."
Watch the panel session
The panel ended with a Q&A session that covered AI's potential impact on environmental solutions, what has changed in environmental reporting over time and more.
You can watch the full panel on the Highwire website.
Any ambitious tech brands, talented communications professionals and influential voices pioneering new markets looking to get in touch can contact us here.