Rob Kuznia recently made headlines for taking a job in public relations. Normally this wouldn't be newsworthy – there are tons of us PR folk – but there's a catch: Kuznia made the move from journalism, and what's more, he's a Pulitzer Prize-winner.
Similarly, Natalie Caula Hauff, whose former reporting team at The Post and Courier just won a Pulitzer for their investigative series "'Til Death Do Us Part," was settling in nicely to her relatively new public relations role when she got word of her own big win.
Even here at Highwire, about 30 percent of our staff are ex-journalists or hold degrees in journalism.
So what's the deal? Why is the journalism-PR transition so natural? And common?
We're Not So Different, You and I
First of all, journalists and public relations professionals share an interesting relationship. Some reporters, though certainly not all of them, look at PR as the cushier, better-paying gig in comparison to journalism, a noble career and public service. But the thing is, the relationship between journalists and PR pros is rather symbiotic; it's often difficult for reporters to do their jobs without going through PR gatekeepers, and PR's success lies largely in media coverage.
On top of this working dynamic, PR and journalism require very similar skill sets, and I can tell you this from personal experience. I myself got a master's from one the top j-schools in the country, Northwestern's Medill, and have spent time reporting in Chicago and Washington, D.C. Now that I've made the transition to Highwire, I find myself applying every tangible skill I learned in that realm to my PR work.
A Day in the Life
For instance, a typical day for a journalist could look as follows: She wakes up, knowing she has to file a story by five o'clock. Always staying one step ahead of the news cycle, she scans local and national media alerts. She finds a story to cover, but before she can dig in, she has to pitch the story to her editor – a succinct "this is what's going on, this is why it's relevant and newsworthy, and this is how we should cover it" message. Once she gets the green light, it's time to do a little reporting.
First, she needs sources to explain the issue at hand and answer her questions. She digs up their contact information, and, for all intents and purposes, cold calls them. She tries and tries and tries and tries until someone finally answers the phone and answers her questions. Then she moves on to her next source and next source until she has the golden standard – a fair and balanced (and informative!) story.
Now she actually has to write that story and turn it into something her audience wants to read. First, the lede – What is the most newsworthy part of this story? She'll open with that, then explain the details and background later once she has caught the reader's attention. After she has a draft, she has to go through it with a fine-toothed comb to make sure there are no grammar or syntax errors and ensure that the copy is in line with her publication's standards – likely AP style or the like. Then it's off to the presses! Or, more likely, her web editor.
Switching gears, every task described above translates into a crucial skill in the PR realm.
Where PR Fits In
One key to success in public relations is a keen awareness of current events and trending topics, thus knowing when and how to best insert a client into the larger social conversation. As do journalists, PR people must be newshounds.
Secondly, as reporters pitch stories to their editors (and as freelancers do to various publications), PR people also have to know how to pitch publications effectively. We have to be able to show news outlets why a client's information – an announcement, latest research, etc. – is newsworthy, and suggest the best angle in which it should be covered. Of course in order to pitch, one has to be comfortable with persistently reaching out to members of the media – whom are often (especially in an early professional's career) complete strangers – similar to how journalists reach out to sources for their stories.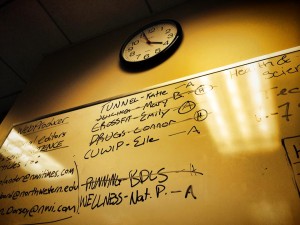 Another huge aspect of both journalism and PR is storytelling – in journalism, for obvious reasons; in public relations, for more veiled reasons. It's our job to tell the story of our clients to the world – the moves they're making, the good they're doing, the information they're uncovering, the products and services they're offering. We at times have to dig deep, just as reporters do, to unearth facets of the company that best represent them – whether these be customers with an interesting story to tell, heartwarming personal details of the CEO, or quirky facts about the company's history – and leverage these into stories that make their way into the news.
Moving to the Other Side
So why did I switch? Great question. (Thank you, Self!)
I think public relations is always what I wanted to do, but I just didn't realize it until I got my reporting feet wet… And sore. (Pro tip: Do NOT wear stilettos on reporting days; save them for stand-ups only.)
Mad props to reporters – Journalism IS, in fact, a really tough job, in so many ways. Hitting the streets for information and interviews can be physically exhausting, and becoming a quasi-expert on new subjects day after day can cause some serious mental fatigue.
Moreover, in my newsroom days, everyone was working on their own solo stories, and although the place was always abuzz, it was a rather isolated place to work. On the other hand, everyone at Highwire shares a real camaraderie since we're all working toward the same goals.
What I knew I wanted – and thought I would get out of reporting – was the chance to write creatively, edit meticulously (though begrudgingly in the case of the extraneous Oxford comma) and communicate ideas to the public. Working in public relations allows me to do all of this and then some, alongside some really great people.
I'll always cherish my journalism degree and all the excitement that came with my days in the field, but as Rob and Natalie have already learned, the professional value that lies in these skills can reach far beyond reporting.